Teri Roiger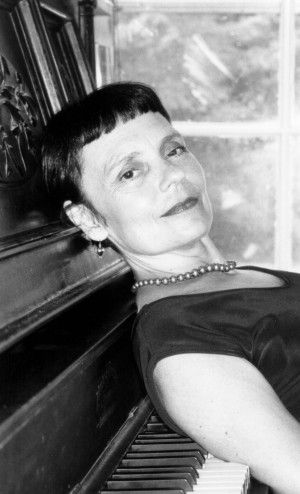 Teri Roiger bio
An American jazz musician, vocalist, pianist, songwriter, educator, and producer, Teri lives in New York City and also spends time in New York's Hudson Valley. She began playing piano at age 5, and played church organ throughout her teens. When she discovered jazz in her early 20s – and soon after made her first demo with the legendary stride pianist, Butch Thompson – her musical path was set. 
One afternoon in Minneapolis, a young Teri Roiger sat down at a piano amidst a group of seasoned musicians, and played a burning rendition of John Coltrane's Giant Steps. An astounded nearby bass player said, "Hey, you aren't supposed to be able to do that," a remark that ignited Teri's determination to pursue a life in jazz.
After years of "doing that," Teri feels her latest recording is her most personal and powerful to date. 2017 brings Teri's fourth release as a bandleader – GHOST OF YESTERDAY: Shades of Lady Day -- a heartfelt tribute to Billie Holiday, to coincide with Lady Day's 102nd birth year.
Noting that Ms. Holiday provided the initial spark that led to a lifelong commitment to jazz, Teri says, "This recording brings me full circle. I was immediately moved upon first hearing Holiday's recordings. I felt all kinds of emotions I didn't know how to express; emotions I hadn't felt before, and it awakened something in me that I treasure. This tribute is something I've wanted to do since I began singing Billie Holiday's music in my 20's. In spite of her challenges, Billie was able to persevere and make incredible music that was filled not only with sorrow, but also with joy. I'm in awe of that ability." On this multi-dimensional project, Roiger celebrates and honors Lady Day's legacy by showing the many facets of Billie – her ebullient joy, her rebellious spirit, her rich sensuality, and the depth of her blues. In addition to recording re-imagined versions of Billie classics, Roiger also includes some interesting songs inspired by Billie, one of which appears here on disc for the first time with Teri's original lyrics, as well as the Gil Scott-Heron classic Lady Day and John Coltrane.
Teri has performed throughout the U.S., Canada, Mexico, and Europe, and has been a featured artist at the San Miguel Jazz Festival, Panama Jazz Festival, and Bolzano Jazz Festival. The depth of her experiences and love of jazz is apparent when she brings all of her talents to bear in her live performances, the recording studio, and through her moving lyrics and compositions.
 Roiger's original offerings to GHOST OF YESTERDAY are lyrics to Lady Day penned by Roiger, along with her lyrics to the melodies of two of Lester Young solos, which reflect her empathetic embrace of the music, while exploring Holiday's intriguing musical relationship with Young. She also added lyrics to an Ella Fitzgerald solo which appear on the track Them There Eyes. Holiday aficionados will recognize that Roiger pays special tribute to Lady In Satin, one of Billie's most hauntingly heartfelt albums, with new and beautiful arrangements of You Don't Know What Love Is and It's Easy To Remember.
The depth of musicianship on GHOST OF YESTERDAY is a testament to Roiger and producer John Menegon's sophistication as arrangers, and to each musician's unique contribution to shaping and propelling the music to a world-class standard. The personnel includes some of the most highly respected and accomplished musicians on the scene today: John Menegon (Dewey Redman, David 'Fathead" Newman, Joe Lovano), Wayne Hawkins (Karrin Allyson), Steve Williams (Shirley Horn, Carmen Lundy). special guests…the "Visitors": Roswell Rudd (Archie Shepp, Cecil Taylor) Jay Collins (Gregg Allman, Jacky Terrasson), Steve Gorn (Paul Simon, Jack DeJohnette), Rebecca Coupe-Franks (Joe Henderson, Kenny Barron), Mark Dziuba (Jim Hall, Pat Metheny), Abdou Mboup (Joe Lovano, Michel Petrucciani).
Teri's 2012 release, DEAR ABBEY: The Music of Abbey Lincoln, produced by Brian Bacchus, made the Jazz Journalist Association's "best of" vocal releases list for 2012, and was featured as one of the five best tribute releases in NYC Jazz Record's January 2013 issue. Teri's acclaimed composition STILL LIFE, title track of her second release (with Frank Kimbrough, Gil Goldstein, Matt Wilson, and John Menegon) won third prize in the jazz category of the International Songwriting Competition. On her debut CD, MISTERIOSO, Teri and her husband, John Menegon, collaborated to arrange and produce a collection of tunes featuring jazz legends Kenny Burrell and Jack DeJohnette. On that album, Teri's original lyrics to Monk's Misterioso (renamed Listen To Your Soul) were recorded with the blessing of the Thelonious Monk family.
Since 1998, Roiger has shared her knowledge and inspiration with her students in the SUNY New Paltz Jazz Program (New Paltz, NY), where she teaches Jazz Voice, History of Jazz, and Vocal Jazz Ensembles. Over a seven-year period, she also developed and presented four in-depth courses at Williams College (Williamstown, MA): The Music of Billy Strayhorn, The Music of Thelonious Monk, A Survey of Brazilian Music, and an extensive Vocal Jazz Ensemble Performance course.
Teri and John also composed and scored the music for the documentary film BEYOND ICONIC (2011) about the renowned photographer Dennis Stock. Directed by Hanna Sawka, this acclaimed film premiered at festivals all over the world, and was one of the top ten finalists at the Sao Paulo Film Festival. In 2011 Roiger and Menegon formed a new production company called JAZZSTOCK, which has been very successful in presenting world-renowned jazz artists in Woodstock and throughout the Hudson Valley and continues to this day.
Praise for Roiger's music and performances:
Jack DeJohnette, 2012 NEA Jazz Master and legendary jazz drummer: Teri has an intuitive laid back sense of time reminiscent of Abbey Lincoln & Betty Carter, but with her own uniqueness.
Stanley Crouch at DIZZY's: Her notes, her swing, her sound, and the all-encompassing soulfulness of Teri giving meaning to the music and the moment said all there is to say. She had all of the essence that anyone wants to hear anytime from a true jazz singer…She is made for those who still understand the meaning of the term the real thing.
Vic Garbarini, Playboy Magazine: A voice like the finest bittersweet chocolate full of rich, dark, contradicting flavors that miraculously blend to create one of the most original vocal instruments in decades! 
JAZZTIMES: Powerfully moving…sagacious warmth…impressively deep… 
ALL ABOUT JAZZ: Roiger's warm contralto, like aged, fine whiskey, is smooth but heady. 
Mark Myers, JazzWax.com: A vocalist who wraps (Abbey) Lincoln's complex songs around her finger…